12 MIN READ
5 HubSpot Tools B2B Sales Teams Should Be Using
---
Get the latest blog updates in your inbox.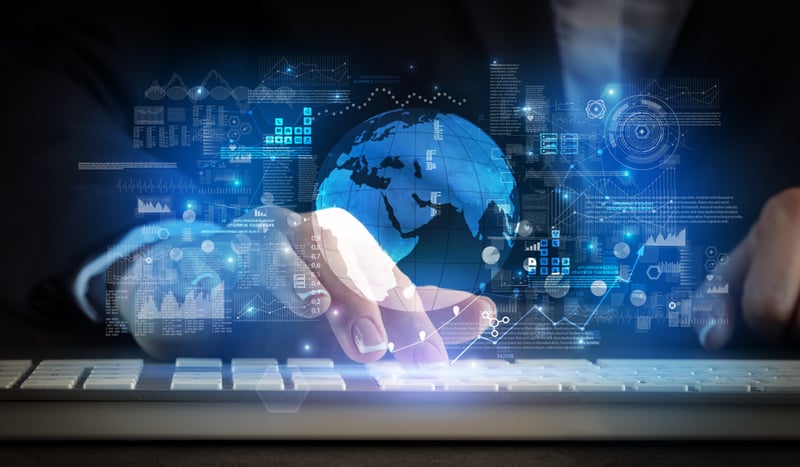 Did you know that 60% of B2B buyers will only talk to a salesperson after they have done their research? They are very discerning customers. That means your team has got to work harder to close a deal and make money.
Don't worry though. Some HubSpot tools are available for B2B sales teams that are looking to boost their sales. Whether you already have HubSpot or are considering it for your sales organization, there are HubSpot tools that every b2b sales team would enjoy.
These 5 tools can help your team perform its core sales functions quickly, efficiently, and effectively.
Let's break them down further:
1. Deal Management Tools
Whether you close the deal successfully depends on how well your sales team pursues that contact and tries to sell your business products and services. This is where effective deal management comes in.
When working with potential customers within the B2B sector, matters can change fast. And they will not always change in your favor. That's because the stakes are much higher. The average B2B order value is $491 compared to the average B2C order value of $147. For this reason, you need to ensure that no deal falls through the cracks. Don't give your prospects and leads time to change their mind.
The HubSpot deal management tool helps you track every possible deal through all the pipeline phases until the end when they are either won or lost. With this tool, you can add deals with a single click from company records or a contact, assign tasks (like making phone calls or sending emails), and keep track of the progress your sales team is making towards closing the deal.
You can create an entire sales process from scratch using the deal management tool from HubSpot Sales Hub. Your team can customize it by adding, editing, and deleting deal stages and properties. The tool can also create custom deal properties more suitable for your business needs.
With the deal management tool, you can also determine whether you are dealing with an individual or company and what their identity is. It also provides their contact information, previous interactions with your business (new or existing customer), etc.
You can also use the tool to identify many opportunities for your sales team to sell. It also identifies possible roadblocks that may prevent you from closing a deal with success. You can even use it to forecast your company revenues.
2. Email Sequences Tools
Email is ubiquitous for those with access to the internet. Every internet user will use it at some point. Thus, it offers your sales team the best chance to reach your leads. But writing emails is not all there is to selling. There is so much more that needs doing.
To begin cultivating a relationship with your leads you need to send them a series of emails. And the sequences tool that is available in HubSpot Sales Hub Starter, Professional, and Enterprise versions is the best tool for the job. It comes with a connected personal inbox (Office 365, G Suite, or IMAP). It automates the entire process of sending relevant follow-up emails without compromising efficacy.
The sequences tool will send your sales emails via your connected inbox. The series of email templates will be sent to your contacts. To ensure your sales team meets its quota, you can track each email so that you can receive notifications if it has been opened or whether the recipient clicks on it. That helps you determine the level of interest each of your leads is showing. Then your sales team can know how to pursue them further.
Since sales emails are more targeted to ensure that you get a reply or booked meeting from your leads, the sequences tool only allows manual enrollment of contacts.
Once your contacts reply to the email you have sent or book a meeting, the HubSpot sequences tool will unenroll them from the email sequences automatically. That's because the goal of this tool is to track when contacts reply to your sales team emails.
3. Task Automation Tools
Everything you need to daily to keep your business running qualifies as a task. But not all tasks are equal. Some are more important and urgent than others are. Also, different tasks have different desired outcomes.
HubSpot's sales automation tool helps with task automation. Let your sales team use it to create tasks, rotate leads, create deals, and set reminders, and deadlines. They can also use it to determine the relationship between tasks and existing information, and assign people to perform the tasks.
Task automation can also be done in deal stages if you opt for Sales Hub Professional or Enterprise. There's also the option of automating workflows based on tickets, quotes, contacts, company, etc. It depends on what kind of lead source and quality your team deals with.
The sales automation tool can also automate repetitive tasks such as the enrollment of leads in sequences, setting up meetings with the hottest leads, and synchronization of data. Also, use it for determining the best performing email sequences, etc.
With this tool, you get to choose prospects from your list of messages and enroll contacts directly from your system inbox. Then the assigned team members can send a series of personalized and timed emails to keep the conversation going.
The personalization tokens available through the sales automation tool will enable you to populate the sequence emails with contacts, company details, and any other details that help to add the human touch to the automated messages. Your sales team can then queue the relevant tasks to be done in order of priority so that they can be accomplished when the need arises. The more automated these tasks are, the less manual work everyone will need to do. That, in turn, raises the productivity of the entire sales team.
4. Reporting Tools
Did you know that 90% of businesses are struggling with unstructured data? If your company keeps accumulating data about your leads, but your sales team cannot make any sense of it, then everyone is wasting their time.
Data must be turned into information that provides accurate insight. Only then can your sales team engage in activities that boost sales and increase revenues for your business. And that's where HubSpot's reporting tool come in.
The tool provides a 360-degree view of your company's sales information. It is a single source of truth for your company data. It can enhance visibility into individual and team performances.
It performs relevant actions for your sales team such as predictive lead scoring, determining the best source of leads, and calculating email open rates. You can use it to determine the best email sequences and best performing pages, forecasting revenue growth, tracking sales quota progress, etc.
The available dashboard can also help you check the sales quota progress, monthly trends of important sales activities, etc. You can also use it to determine deals lost or won, find out the best-performing deals, calculate commissions and splits, etc. This tool is robust and scalable.
5. Seamless Integration Tools
It doesn't make sense to get multiple sales tools that can't work with your existing systems. If that happens, you may need to get additional tools to seamlessly integrate your new systems with your old ones. That could become expensive very quickly.
However, the HubSpot Sales Hub is different. It provides seamless integration in every way that matters. You can use it to access relevant sales information from a single platform.
The seamless integration enables teams from multiple departments across the organization to work together. So, your sales team could work well with the marketing and customer care departments. That way, they can handle existing and potential customers at every stage of the buying process efficiently.
The easy-to-use tool also works with many applications and systems like Outlook, G Suite, Navigator, LinkedIn Sales, live chats and bots, meeting scheduling software, etc. You can even enroll your contacts in sequences, right from your Gmail or Outlook for desktop accounts so you never lose touch with them.
The HubSpot Sales Hub tool also provides bi-directional synchronization with Salesforce so that a record of every email, meeting, call, and more is readily available. Additionally, it provides a universal messaging platform for all relevant teams that work together to generate sales. That ensures the lines of communication stay clear.
The Enterprise Sales Software from HubSpot is the ultimate 5-in-1 tool for B2B sales teams looking to boost company sales. It automates tasks and provides deeper insights for your sales teams. It also ensures your team continually communicates with leads and prevents deals from falling through the cracks. Furthermore, the business growth software does all this while seamlessly integrating with the many applications and systems that you may already be using to run your business. What more could you ask for?
And we are here to help you get started!
Originally published May 7, 2020 4:13:00 PM, updated Sep 7, 2021
Get The Latest Swipes In Your Inbox.
Join the other 15000+ savvy marketers & cpywriters who get swipe updates.
Each week, you'll receive "Swipe Studies" analyzing successful promotions.
You'll be the first to know about new site features & additions.