7 MIN READ
How to Create a Good Sales Strategy: 9 Tips
---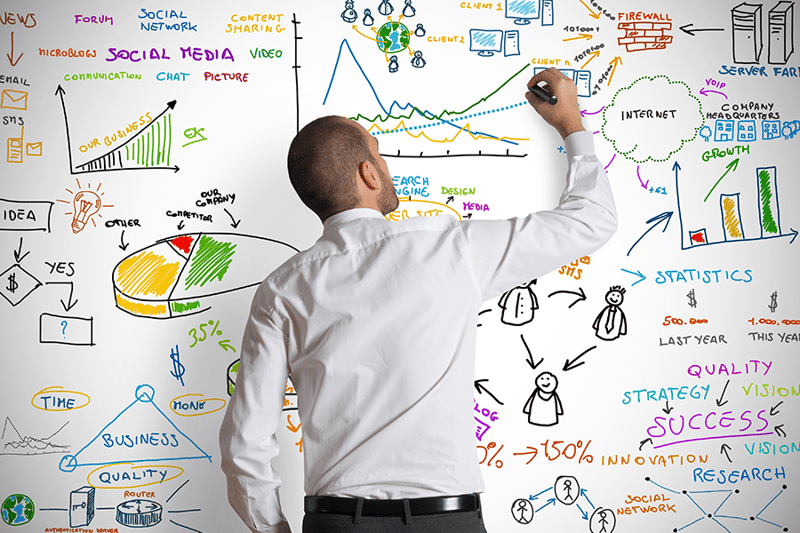 A sales strategy is a documented plan meant to help your organization sell its products and services to qualified buyers. It should also differentiate your product or service from your competition.
A good sales strategy should guide your sales team by providing clear objectives. Think of it as a roadmap that your sales reps can use as a reference point should the need arise.
There is a method of writing a sales strategy. Here are the tips to consider and implement when writing a sales strategy:
1. Your Sales History
Before you can begin to write a sales strategy, you must first understand your business history. That entails looking into your sales reports to gain a deeper understanding of your organization.
When you look at your numbers, you need to ask specific questions and find their answers. What did your sales team sell, and to whom? What is the volume of products and services sold? Which clients brought in the most revenues, and which ones contributed the least?
There's more you should ask.
How much repeat business did you have? Which clients had the shortest sales cycles? Which areas of your company have the most growth potential? And what resources would your sales team need to achieve that growth?
The more answers you have to these questions, the greater clarity you will get concerning your current business environment. Answers to these questions will give you a point of reference from which to begin the process of building a sales strategy.
2. Create and Define Your Ideal Customer Profile
Without customers, then you would have no business. So, understanding who your ideal buyer is matters a lot.
Who is your customer? You must understand the target demographics that you should be selling to. What gender do your customers belong to? How old are they? If there is an age range, include it.
How many customers are there in the market? How do they buy and when? How much disposable income do they have? What do they do? Where do they hang out? In what industry do they work? And what are their roles?
Also, include your customers' pain points. What drives them? Why do they shop? These aspects determine how you can reach them.
Your ideal buyer's profile will help your team come up with the right leads and prospects. It will form the foundation for your lead scoring and qualification framework.
3. Incorporate a SWOT Analysis
SWOT is an acronym for Strengths, Weaknesses, Opportunities, and Threats.
A SWOT Analysis is, therefore, a comprehensive framework that enables organizations to identify their strengths, weaknesses, opportunities, and threats.
What is it you do well and better than your competitors? What is it that your company lacks, and your competition does better? Are there opportunities that you can take advantage of? Do you have underserved markets? And what threats does your business face? Are there regulatory changes and emerging competitors that could impact your business negatively?
A SWOT Analysis is done to determine where your business currently stands and how it measures up against your competition as many relevant company stakeholders as possible should take part in creating this framework to provide many helpful perspectives.
You need to incorporate this framework into your sales strategy. It provides insight into current and future sales opportunities and obstacles that affect your company's revenues. Also, it enables you to come up with actionable sales objectives for your team.
4. Create A Clear Marketing Strategy
In successful companies, marketing and sales departments usually work together. Both groups must maintain unity in terms of the message they communicate to potential and existing customers. There should be no confusion whatsoever about the solutions the company offers.
Did you know that companies that align marketing and sales teams are 67% more likely to convert leads? Did you also know that aligning sales and marketing teams could increase revenue by marketing by as much as 209%? That is why you need a clear marketing strategy to be part of a successful sales strategy.
Your organization's marketing strategy should be a clear plan of action on how products and services will be sold. That's because the marketing professionals will create product awareness and partly responsible for acquiring leads. So, start by understanding what your company's vision and mission is.
Then you need to know what tools and channels you will use to connect to ideal buyers. Also, include information about existing accounts, grow them, get referrals from them, reach out to new territories with new and existing products, etc.
5. Incorporate Value Propositions
Are you aware that the number one inhibitor to achieving sales effectiveness is salespeople's inability to communicate a valuable message to decision-makers?
So, what are you hoping to give your customers in terms of value? How do you intend to communicate this value? And how will the customers experience this value once you deliver it to them?
Bear in mind that it is not enough to have value propositions in your sales strategy. Your business must offer unique value propositions. You must show how your solution benefits differentiate you from your competitors.
Your salespeople should be able to answer the question: why should they choose your products? What is in it for the customers?
Different market segments will need to hear other value propositions. The needs that buyers have to vary by territory, account size, awareness levels, etc. So, different departments across the organization must work together to develop ways to position your company and its solutions. Every solution must have its unique value proposition that is tailored to the target markets.
6. Set Clear Sales and Revenue Goals
Your sales and revenue targets must be based on reality. That's why it's crucial to create a sales strategy after looking into your business history and doing a SWOT analysis.
It would be helpful for your organization to develop Key Performance Indicators (KPIs) at this point. These are the metrics that your company will use to measure performance over time to determine if sales and revenue goals are being achieved.
Examples of metrics that you can track in your sales strategy when setting sales and revenue goals include new leads, sales volumes, upsell and cross-sell rates, etc. These goals will help sales leadership create quotas that must be met.
7. Define the Sales Team Structure
Studies show that 81% of sales teams that are happy report an increase in annual sales.
So, who will make up your sales team? What roles will each member of the team play? How will new salespeople be on-boarded?
The kind of people that you have working in your organization matters. Defining what their roles are to minimize friction will affect their happiness levels.
8. Incorporate a Sales Process
A sales process is a set of reputable steps that your salespeople will use to turn a lead into a paying customer. Companies that have sales processes are more likely to have better sales performance.
Defining a sales process is essential. Regardless of your salespeople's sales methodology, it guides your sales team when interacting with prospects.
9. Set an Action Plan
Every sales team needs an action plan with set timelines. This is the plan that shows how everyone is expected to work and reach out to prospects. It must be aligned with your organization's sales and revenue objectives and goals. The sales process will be instrumental in helping you incorporate an action plan for your sales reps.
Your go-to-customer strategy should be included in your action plan. It should tackle issues such as inside and outside sales, online and offline sales channels, strategic partners, and resellers that can help boost your sales and revenues, etc.
Incorporating your action plan is meant to help improve your company's win rates. The better your action plan is, the more deals your sales team will close.
A successful sales strategy will take time to create. But if you are open to having it improved, you can create a plan that works well for your organization. So, you need to ensure that you get input from all the relevant stakeholders when making it.
An effective sales strategy will ensure that your organization can improve its sales performance over time. It's, therefore, imperative that you document yours as soon as possible.
Originally published Dec 28, 2020 12:00:00 PM, updated Dec 28, 2020