Prospecting Tactics for Salespeople in 2023
Sales prospecting is about identifying and reaching out to potential clients (qualified leads) to generate new business and revenue. Over 40 percent of sales representatives consider it the most challenging part of the sales process - far more than closing or qualifying. Effective sales prospecting involves generating and qualifying leads, then researching what makes them tick.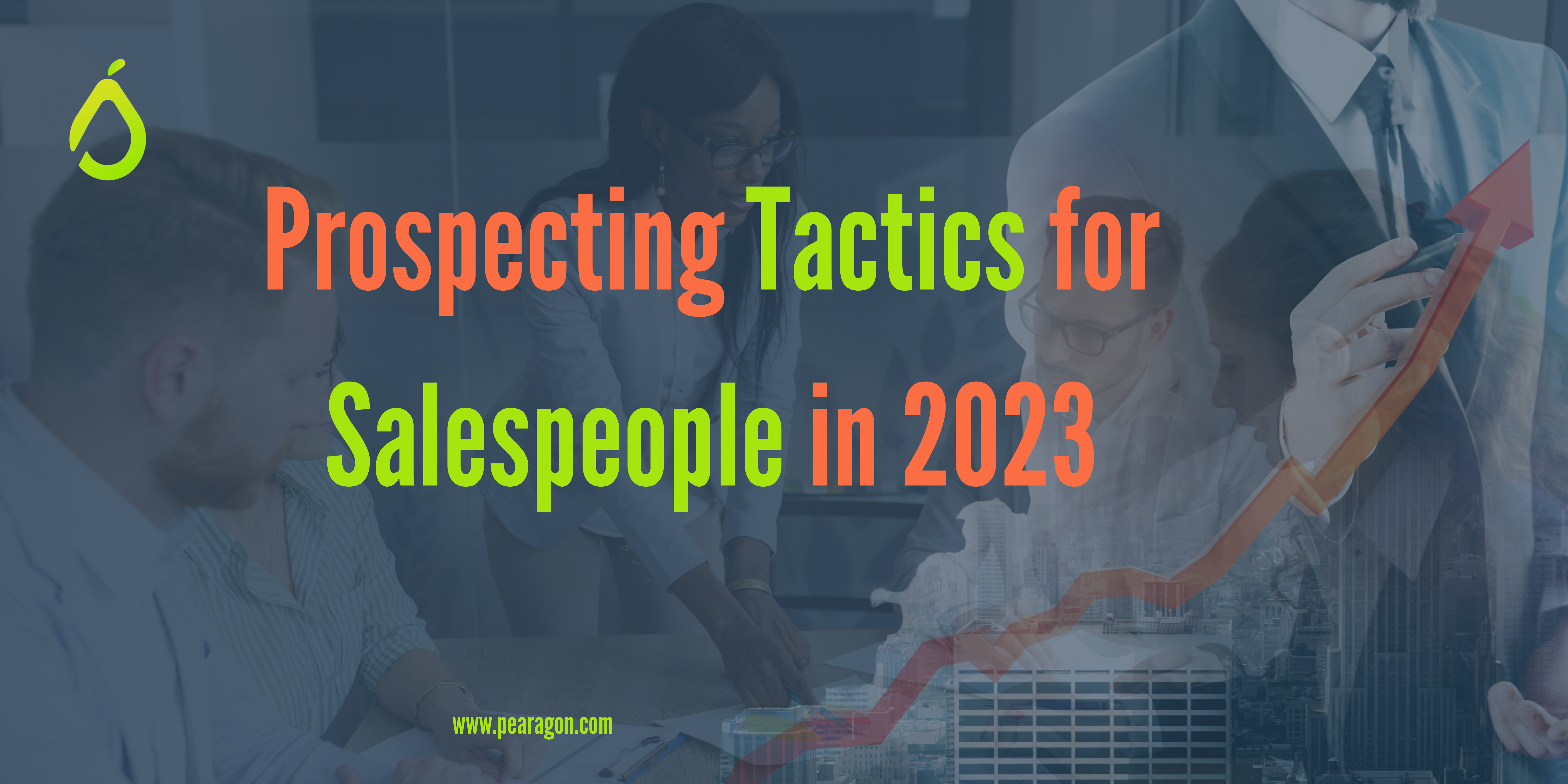 Below are some effective prospecting tactics your sales team can use!
Understand Your Clients
It is important to know your buyer personas before prospecting. How can you sell to someone when you don't understand who they are, what drives them, and their interests?
A Customer Relationship Management (CRM) tool like HubSpot will be instrumental in helping you understand what your ideal customer looks like. Besides the data and insights a CRM provides, you should conduct additional research on your ideal clients. One way to do that is by establishing connections with potential customers via your business blog, social media platforms, and in-person events.
For example, you can have focus groups concerning the issues existing and potential clients face or your products' shortcomings. Only by learning as much as you can about your ideal customers will you know how to frame your products and services as the ultimate solution to their pain points.
Adopt a Multi-Pronged Contacting Strategy
Of course, you should use multiple communication channels to reach your prospects. However, you should prioritize a potential customer your organization has interacted with before. Research shows that warm calls typically have a conversion rate of 20 to 30 percent !
Referrals from previous clients offer one of the easiest ways to generate warm calls. So, you may request your existing clients to recommend your brand to others first. In this case, offering incentives like discounts and two-for-one offers for referrals and to potential clients may be helpful.
In addition, you should reach out to prospects you have interacted with via virtual events like webinars and in-person events like trade shows. You should follow up with those who have visited your website and social media accounts and completed any forms you have on those platforms.
However, remember to also cold call prospects. While it's much more challenging to use cold calling during the prospecting stage, you will get decent rewards if you stick to it as long as you have a proper follow-up strategy.
It's worth noting that only two percent of sales happen after the first call. In reality, 80 percent of your sales will occur after an average of five follow-up calls after the initial meeting. That means responding to leads as soon as possible- preferably within one day, sharing a summary of the previous session and providing actionable steps your prospects can take, and following up several times in a reasonable manner instead of giving up the first time.
Make it Personal
Studies show that when brands offer a more tailored experience to consumers, 80 percent are more likely to purchase products from them and 60 percent of them are likely to become repeat customers.
Always remember not to oversell your products, the average customer these nowadays is very discerning.
The more data you have concerning your potential clients, the more insight you have into what they are looking for, thus enabling you to tailor your sales message better and boost your conversion rates.
Use Social Media Platforms
Social media is where most internet users hang out online. LinkedIn, YouTube, Twitter, Tik Tok, Facebook, Instagram, etc., are the most common platforms today.
Since 84 percent of C-level executives and 75 percent of B2B buyers use social media to make purchasing decisions, you can use platforms like LinkedIn to establish connections with decision makers.
An important aspect of your brands online presence is establishing yourself as an authority in your industry by creating helpful content that informs and entertains your audience.
Also, you can use videos to engage your prospects and sell to them. At least 93 percent of brands have acquired customers via social media videos. Explainer videos, in particular, have average conversion rates of 20 percent. But you can also upload webinars, humor videos, etc. Everything depends on your target audience.
Embrace Networking
Taking the time to network can make a difference when you are prospecting. No matter your industry, it would be best if you interacted with others to sell your products.
Taking part in virtual webinars and podcasts will help you network with others in your industry and attract the attention of your prospects without necessarily having to leave the comfort of your home or office.
A typical trade show attendee is 72 percent more likely to buy your product if they have interacted with you rather than from your competition that they haven't met.
Automation Tools are Your Best Friend
A typical workflow automation tool will save your company at least $46,000!
Avoid guesswork when you have tools available to objectively give you the bigger picture of everything that is going on concerning your sales prospects.
An excellent example of a business intelligence and automation tool is the HubSpot Sales Hub. It can automate the scheduling of your meetings while providing an in-depth look at your prospects and their behavior.
Prospecting will change with time as consumer behavior changes. So, it always helps to implement different strategies to ensure you convert as many prospects as possible. And it would help if you also took the time to learn new ways of selling.
As we navigate the ever-evolving landscape of sales prospecting in 2023, it's clear that a blend of innovation, personalization, and strategic outreach is essential for success! By embracing the latest technologies, understanding the nuances of buyer behavior, and honing your communication skills, you're poised to excel in this competitive arena. Keep adapting, keep refining, and keep prospecting – the future of sales awaits those who are willing to embrace change and harness its potential.
Receive Pearagon's Newsletter